There are two things that we can depend on happening until the end of time — the sun rising in the east and setting in the west, and Apple releasing new iPhone models every year. Today, Apple stayed true to tradition and announced three new iPhones, and if you're a fan of their devices, you're no doubt already pressing that "pre-order" button.
However, one thing that's almost as predictable as Apple releasing new iPhones every year is the fact that said phones will only be released in a few different colors. The new iPhone XR comes in six different colors, more than usual for an Apple phone, but in the grand scheme of things, that's still not a tremendous variety. If you're a fan of Apple products in the first place, it's likely that you place a high value on aesthetics and design. And if you're the type of person who values that while still wanting to express your own individuality, well-designed phone skins are a no-brainer for you.
The good news is that we already have amazing phone skins available for the new iPhone models. Whether you're going with the iPhone XS, the iPhone XS Max, or the iPhone XR, we've got you covered with some awesome designs that you're sure to love. And, of course, we also provide the option for you to create a completely custom skin using our custom skin creator!
Find the Perfect Skin for Your iPhone XS, XS Max, or XR
At JW Skinz, we like to hit the ground running with every iPhone launch. And with the new iPhone X models, it's no exception. Apple's new iPhones come in three different sizes this year, and we're prepared to offer incredible phone skins for whichever model you choose. Here are some of the options you have when you order from JW Skinz:
Vibrant Colorful Skins
We have a wide variety of vibrant, colorful phone skins for your new iPhone XS. These skins will go a long way in helping your phone stick out among the rest, and you'll love our wide selection of colorful and creative skins.
If you're worried about us just mashing colors together with no rhyme or reason, think again — we put thoughtful care into every one of our designs.
Marble
Take, for example, our Marble series. These phone skins are adorned with an extremely detailed overlay of colorful rock and mineral patterns, printed at the highest resolution. The marble phone skins are attention-grabbing, colorful, and extremely crisp, making them one of our most popular options.
Abstract
If you're looking for something more intangible than our marble skins, consider our abstract line, which feature bold designs made up of many colors. Our abstract phone skins include artwork, custom made graphics, and creative photo edits that will provide a truly unique aesthetic to your phone.
Stabilized Wood
Our stabilized wood patterns are multicolored and vivid, with special filters overlaid on top of wood designs to create a special look that will give your phone a beautiful flair. Whether you're a fan of warm colors or cool colors, we have designs that we're sure you'll love.
Textured Skins
Sometimes, it's not enough to just change the look of your phone — changing the feel of it can make it even sleeker than before, adding a new tactile feel that is also more resistant against scratches than our normal skins are. Here are some beautiful textured skins that you can order for your iPhone XS, which will add elegant style, protection, and improved grip to your device.
Carbon Fiber
One of our most popular textured skins, the carbon fiber is simple, yet beautiful. It's very scratch resistant, replicating many of the effects of traditional phone cases, and it will provide your phone with a better grip, making it satisfying to hold and harder to drop. The carbon fiber skin comes in 11 colors, so you won't be left wanting for a style that's perfect for your iPhone XS or iPhone XR.
Brushed Aluminum
Are you an iPhone fan, but you tire of the smooth glass finish that so easily slips out of your hand? You'll love the brushed aluminum skins we have, available in silver, black, and blue. This skin replicates the feel of textured aluminum, and like all our other skins of the same nature, makes your device heavily resistant against scratches. Our skins have such tight fidelity to the phone's dimensions that many people might mistake your skin for being the phone's default finish.
Black Leather
For those who want a more sophisticated feel to your phone, you can apply our black leather textured skin. This provides a nice leather finish to your phone without the bulk that you'd normally get from your phone case. The phone will look like it came out of the box with the leather finish once you've applied the skin, and it will add a unique level of class that will be absent from the other iPhone XS devices that flood the market.
Create Your Own iPhone XS Skin Design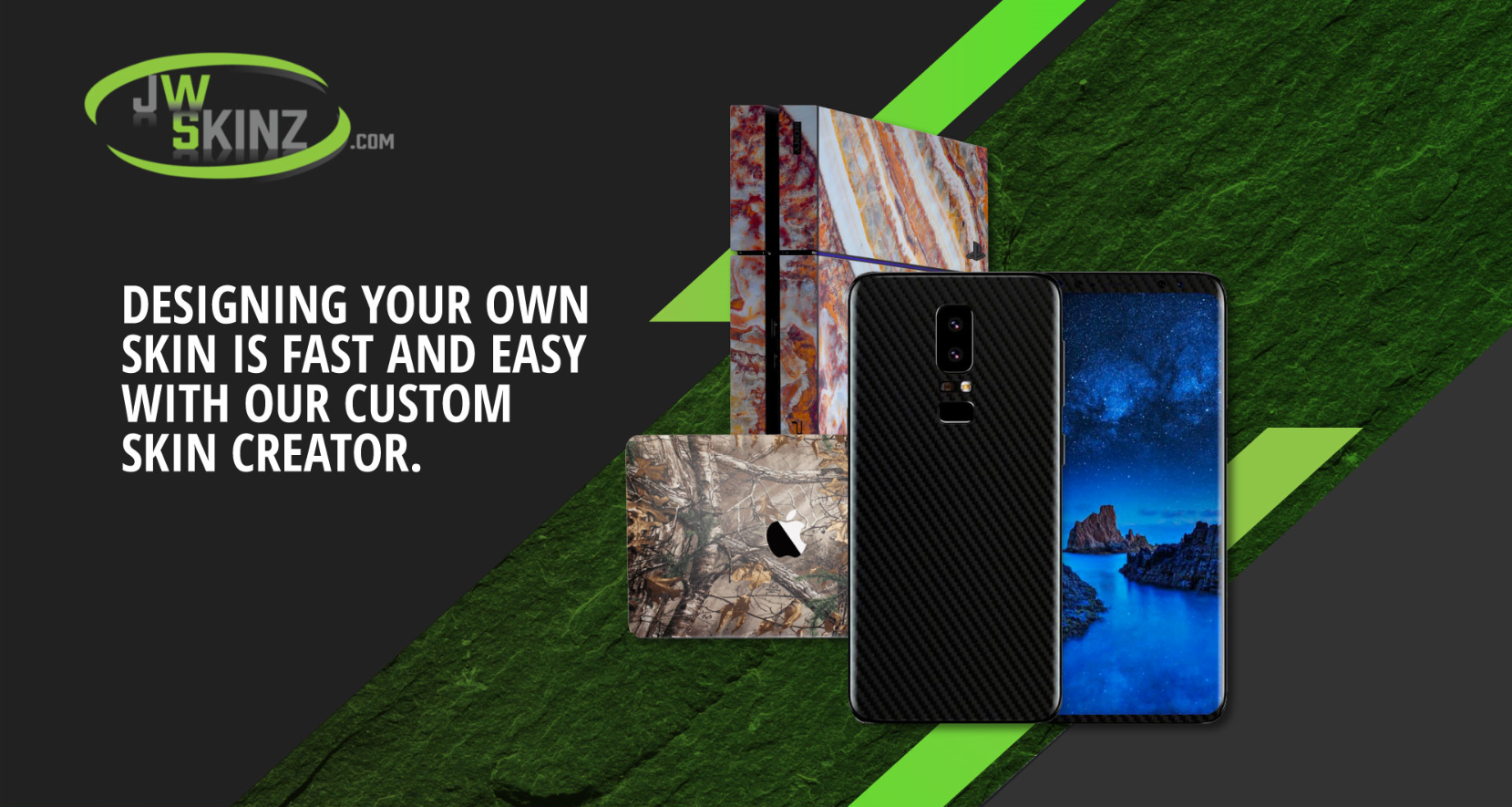 Finally, it's worth mentioning that we offer you the ability to make your own custom design, completely from scratch. You have endless options with our custom skin creator, and we hope you'll use them to make creative designs that will make your new iPhone XS or iPhone XS Max stand out from the rest.
Our custom design creator allows you to upload images, photographs, text designs, and more. Whatever you have in mind, you can find a way to make it work. So if you want your phone's aesthetic to be completely exclusive to you, this is the option you'll want to pursue. Click here to get started with our custom iPhone skin creator.
The Advantage of Phone Skins over Cases
While it's great to have a protective layer around your phone that shields it from damage, it's truly a shame that the beautiful iPhone is almost always seen completely covered up. Apple has a flair for great design, and being able to preserve that is a great feeling.
Skins are a great compromise between the sleek design of the original device versus the bulky protection of iPhone cases. You're able to retain the phone's form factor while adding a layer of protection against scratches. There are advantages to both cases and skins, but if visual design is an important factor for me, and it very well may be if you're an Apple fan, you'll love having a skin that fits onto the phone so tightly it could be mistaken for the original retail model.
iPhone XS, iPhone XS Max, and iPhone XR Phone Skins
With the new iPhone XS, Apple has delivered yet another quality product. Focusing now on design more than ever with an abolished "home" button, you'll want to make the most of its sleek look by adding a skin that's not clunky and intrusive like phone cases are.
Do you have your iPhone XS ready to go and preordered? We've prepared too — all of our skins are compatible with the new iPhone XS models and are available to pre-order now. Browse our online store today!